Transformations Treatment Center has released a podcast and video to help people struggling with alcohol addiction and substance abuse choose the right addiction treatment center near Delray Beach, FL. Substance abuse takes over every area of a person's life, and overcoming substance abuse is challenging. Choosing a reputable substance abuse treatment center is essential because untreated alcohol or drug abuse can lead to mental health issues, physical concerns, and even death. Delray Beach has one of the highest substance abuse rates in Florida, which has resulted in hundreds of deaths in the past year.
The process of recovery and healing begins with the acceptance of the fact of addiction. The path to recovery and healing cannot take place unless the person admits the addiction and its life-dominating effects. The next step is to seek help and to pursue a solution. Choosing the right rehab center is the first step to recovery for anyone who suffers from substance abuse.
In the past, Florida had very lax laws regarding treatment facilities. Though the laws have improved somewhat since 2017, it is still important to check independent accreditation as well as state licensing before settling on a center.
The informative podcast offers a series of questions that people need to ask when searching for the right addiction treatment center near Delray Beach.
Here are some questions to ask when choosing a treatment center to begin the journey to recovery.
Is the facility accredited?
CARF and the Joint Commission are two of the most important certifications that a facility should have.
Does the center's website have Legit Script Certification to advertise?
This certification indicates that the center has met requirements validating its credibility as a legitimate addiction treatment center.
Does the facility have evidence-based treatment programs?
A reputable treatment facility should have a science-based treatment program based on clinical research. The program should include cognitive behavioral therapy (CBT), medically assisted therapy, and acceptance and commitment of therapy. Since the mechanism of drug addiction is multi-faceted, a good treatment center must have multi-disciplinary teams. Substance abuse affects the body, mind, and spirit; any treatment center should consider all three factors.
What licensing does the staff have?
All staff directly involved in the counseling process should be credentialed. Look for the following credentials: licensed drug and alcohol counselor, licensed professional counselor, certified addiction counselor, and certified co-occurring disorders counselor. These credentials will ensure that the team has the experience and expertise to manage addiction and alcohol recovery.
Does the treatment center include family support and education?
Addiction is not isolated to the individual but encompasses the entire family. Scientific studies have shown that, when the addict has the support and understanding of the family, recovery is more likely. A good center will educate the family about addiction and substance abuse to ensure the best possible outcome.
Is the treatment center in the insurance network?
Treatment is costly. Call the provider and ask which treatment centers near Delray Beach are in network.
Does the center have post-treatment support programs?

Is there a waiting list, and how long before an opening is available?

How does the billing work? Is financial assistance available?

Is the program residential? How long is the average stay?

What medical treatment is available in the plan?

Are family and friends allowed to participate?

What extra services and activities are offered, such as physical fitness, art, yoga?

What evidenced-based therapeutic models are used?

Does the center have programs to help with transitioning back into the world?

Does the center have post-treatment support groups?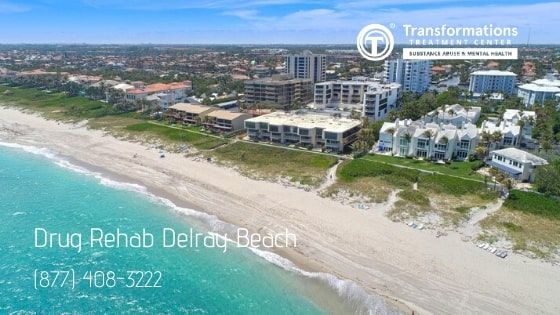 Addiction takes captive every area of a person's life. Breaking the hold of addiction requires a multi-faceted approach managed by a licensed professional at an accredited facility. Before choosing a treatment center, make sure these questions have been adequately answered.
As a nationally recognized substance abuse and mental health treatment center, Transformations Treatment Center integrates natural and holistic protocols along with traditional medications and personalized care. The licensed and experienced team of professionals at Transformations can help people overcome substance abuse and live the life they deserve. The addiction treatment center near Delray Beach, FL specializes in individualized, thoughtful, and supportive programs that are geared toward every client's specific needs. The center provides the right foundation and aftercare services needed to help clients get and stay healthy. Transformations Treatment Center is where healing begins, where relationships are repaired, and where life becomes fun again.
###
For more information about addiction treatment South Florida residents can turn to for help, visit the Transformations Treatment Center website at https://www.transformationstreatment.center/delray-beach-fl. Contact the treatment center by phone at (800) 270-4315.