Estimates indicate that 23 million people suffer from drug and alcohol addiction in America. Only 10% ever receive help to overcome and recover from their addictions. The three most significant roadblocks to starting on the path to recovery are denial, shame, and fear.
The first step to recovery from drug or alcohol addiction is to admit the problem and then to look for a solution. Acceptance of the reality of personal addiction crashes through that first barrier and begins the road to recovery. Since drug addiction is often too hard to fight alone, the second step is to choose the right facility to find the needed help.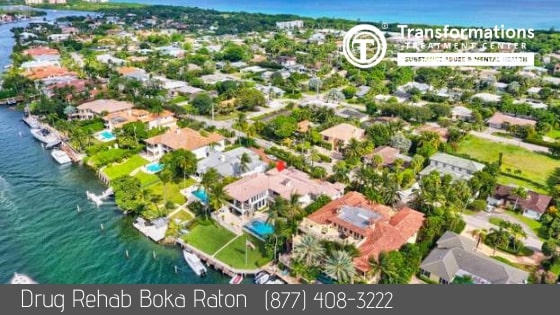 The magnitude of the addiction problem explains the large number of treatment centers in the South Florida area. The lax state regulations explain why facilities tend to have different approaches and different success rates. Many treatment centers have harmful practices in Boca Raton due to Florida's lax laws, which may end up doing more harm than good.
Because of the wide variation in approaches, success rates, and quality of service, Transformations Treatment Center is educating the community, so anyone that is struggling can get the safe and effective help they need. Transformations Treatment Center has created a video entitled "A Guide on How to Choose the Right Addiction Treatment Center near Boca Raton," pointing out some questions that need to be asked when looking for a treatment center. The team at Transformations also produced a series of podcasts that go much further in-depth.
Transformations Treatment Center: The Right Choice
Choosing the right drug and alcohol addiction treatment center is challenging. Transformations Treatment Center is a right choice to overcome drug and alcohol addiction.
Approach
As a nationally recognized substance abuse and mental health treatment center, they integrate natural and holistic protocols along with traditional medications and personalized care.
Accreditation and Licensing
Transformations is licensed by the Department of Children and Family Services (DCF) and the Agency for Health Care Administration (AHCA). Transformations is accredited by The Joint Commission and the Commission for Accreditation of Rehabilitation Facilities (CARF). The center is also certified through the Florida Association of Recovery Residences (FAAR) and is a member of the National Association of Addiction Treatment Providers (NAATP).
Staff
The staff includes licensed mental health counselors, certified addiction professionals, and masters-level therapists who, along with the other nurturing staff who care deeply for the success of each client.
Evidenced-Based Programs
The evidence-based treatment plans are scientifically grounded. These programs include Cognitive Behavioral Treatment (CBT), multi-dimensional family therapy, emotional regulation and mindfulness, and medication-assisted therapy (MAT) for detoxification.
Finances
Transformations Treatment Center is in-network for many health care providers. In cases where Transformations is out of network, the dedicated financial team strives to make a way for the client to receive the necessary treatment to begin the road to recovery.
The Success Rates
Success rates at Transformations are demonstrated by scientifically-based studies that evaluate the performance, quality, and service provided at the center.
Residential Life
Living options at Transformations include two-bedroom condominiums that feature private bed and bathrooms, a full-sized kitchen, as well as a washer and dryer. There is also a family-style villa where bedrooms are shared. The residences are located close to beaches and shopping, and transportation to treatment at the clinical center is provided.
Post Treatment Programs: After Care and Alumni Programs
Maintaining a relationship with alumni can help reduce the occurrence and severity of relapse and remind people that they can have a fun and fulfilling life in recovery. The dedicated Transformations Alumni Services team makes phone calls to every alumni member indefinitely. When speaking with former clients, alumni coordinators work to ensure open lines of communication to determine if clients are maintaining a healthy, sober lifestyle. In many cases, these touch-points prove instrumental in helping people stay sober or return to treatment rather than relapsing.
Family Support and Education Program
Transformations Treatment Center believes in helping the family cope and grow. The robust family-support and education program reflects SAMHSA's statement that the family is a crucial dimension in recovery, along with health, community, and purpose.
The Transformations Treatment Center difference includes not only treating physical dependence but also the mental or emotional aspects of addiction. The licensed and experienced staff considers lifestyle, environment, and any co-occurring (dual diagnosis) health disorders that may factor into the dependence upon drugs or alcohol. The aim is to prepare clients for a lasting road to recovery.
###
For more information about treatment for substance abuse South Florida residents can turn to for help, visit the Transformations Treatment Center website at https://transformationstreatment.center/boca-raton-fl. Speak to one of the helpful staff by phone at (800) 270-4315.