Finding the right drug and alcohol treatment facility for rehab and addiction treatment is one of the most important steps anyone can take. Substance abuse feels like being in prison. Unfortunately, the opioid crisis has seen a dramatic rise in drug and alcohol-related addictions, which has created a need for more rehab facility providers. An estimated 23 million people suffer from drug addiction. Only ten percent, or 2.3 million people, seek help. The demand for rehab is great.
Transformations Treatment Center is located conveniently near Hollywood, Florida. If a person or a loved one is suffering from alcohol and drug abuse or addiction-related health disorders, having some guidance on how to choose the right addiction treatment center could have a substantial impact on the long-term recovery and be a life-changer forever.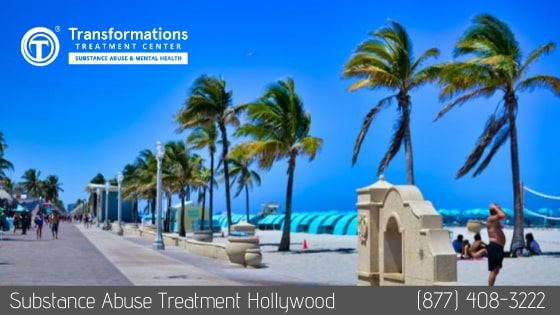 Mental health counseling and ongoing therapy that reinforces positive behavior actively improve long term recovery rates. Individuals seeking help with alcohol or drug abuse need to be dealt with by medical staff that is experienced, qualified in addiction, and certified. Treatment programs such as a Twelve-Step Program, cognitive behavioral therapy, and medication-assisted therapy all have a scientifically proven track record in dealing with substance abuse.
When searching for a rehab center, ask these questions.
How long has the facility been in operation?

Do the staff and facility have the accreditation, licensing, and credentials that would be expected from a treatment center capable of treating the wide range of issues associated with addictions and substance abuse?

Does the treatment center have staff dedicated to identifying and treating the mental health issues that often accompany substance abuse?

Is the team of professionals committed to the long-term process of recovery? In other words, are aftercare programs and family education programs a part of the treatment approach?
The team of nurturing staff at Transformations Treatment Center cares about people locked in the grip of substance abuse. They have prepared a video and podcast to help individuals struggling with drug addiction find the right treatment center to overcome addiction challenges and begin the journey to recovery.
The Right Choice: Transformations Treatment Center
Choosing the right drug and alcohol addiction treatment center can make all the difference in the world for someone locked in the prison of drugs or other addiction. Transformations Treatment Center is a great choice to overcome drug and alcohol addiction and change the world one person at a time.
Approach
As a nationally recognized substance abuse and mental health treatment center, Transformations Treatment Center integrates natural and holistic protocols along with traditional medications and personalized care. At Transformations, they help people live the life they deserve.
Accreditation and Licensing
Transformations Treatment Center is licensed by the Department of Children and Family Services (DCF) and the Agency for Health Care Administration (AHCA). Transformations is accredited by The Joint Commission (JCOHA) and the Commission for Accreditation of Rehabilitation Facilities (CARF). The center is also certified through the Florida Association of Recovery Residences (FAAR) and is a member of the National Association of Addiction Treatment Providers (NAATP).
Staff
The staff includes licensed mental health counselors, certified addiction professionals, and masters-level therapists who, along with the other nurturing staff, care deeply about the success of the clients in treatment. Medical doctors, psychiatrists, medical support staff, spiritual advisors, nutritionists, and wellness specialists are available as needed.
Evidenced-Based Programs
The evidence-based treatment plans are scientifically grounded. These programs include Cognitive Behavioral Treatment (CBT), multi-dimensional family therapy, emotional regulation and mindfulness, and medication-assisted therapy (MAT) for detoxification at Summit Detox.
Professional Licensing
All staff directly involved in the counseling process have professional licenses, including:
Licensed drug and alcohol counselor

Licensed professional counselor

Certified addiction counselor

Certified co-occurring disorders counselor
These credentials ensure that the team has the experience and expertise to manage addiction and alcohol recovery.
Success Rates
Success rates at Transformations Treatment Center are validated by scientifically based studies that evaluate the performance, quality, and service provided at the center.
Residential Life
Living options at Transformations include two-bedroom condominiums that feature private bed and bathrooms, a full-sized kitchen, as well as a washer and dryer. A family-style villa where bedrooms are shared is available. The residences are located close to beaches and shopping, and transportation to treatment at the clinical center is provided.
Post Treatment Programs: After Care and Alumni Programs
Maintaining a relationship with alumni can help reduce the occurrence and severity of relapse and remind people that they can have a fun and fulfilling life in recovery. The dedicated Transformations Alumni Services team makes phone calls to every alumni member indefinitely. When speaking with former clients, alumni coordinators work to ensure open lines of communication to determine if clients are maintaining a healthy, sober lifestyle. In many cases, these touchpoints prove instrumental in helping people stay sober or return to treatment rather than relapsing.
Family Support and Education Program
Robust family-support and education are emphasized at Transformations Treatment Center. SAMHSA promotes four dimensions as crucial to the recovery process: health, home, community, and purpose. Addiction involves the entire family; therefore, Transformations strives to embrace all family members affected by the client's addiction.
Finances
Transformations Treatment Center is in-network for many health care providers. In cases where Transformations is out of network, the dedicated financial team strives to make a way for the client to receive the necessary treatment to begin the road to recovery.
The Transformations Treatment Center difference includes not only treating physical dependence but also the mental or emotional aspects of addiction. The licensed and experienced staff considers lifestyle, environment, and any co-occurring (dual diagnosis) health disorders that may factor into the dependence upon drugs or alcohol. The aim is to prepare clients for a lasting road to recovery.
###
For more information about choosing the right drug and alcohol treatment center near Hollywood, Florida, visit the Transformations Treatment Center website at https://transformationstreatment.center/hollywood-fl. To speak with a staff member by phone, call (800) 270-4315.